Decision-making advisor for software development
A new and better way to measure technical debt & code quality. Perfect for Engineering leaders and non-tech managers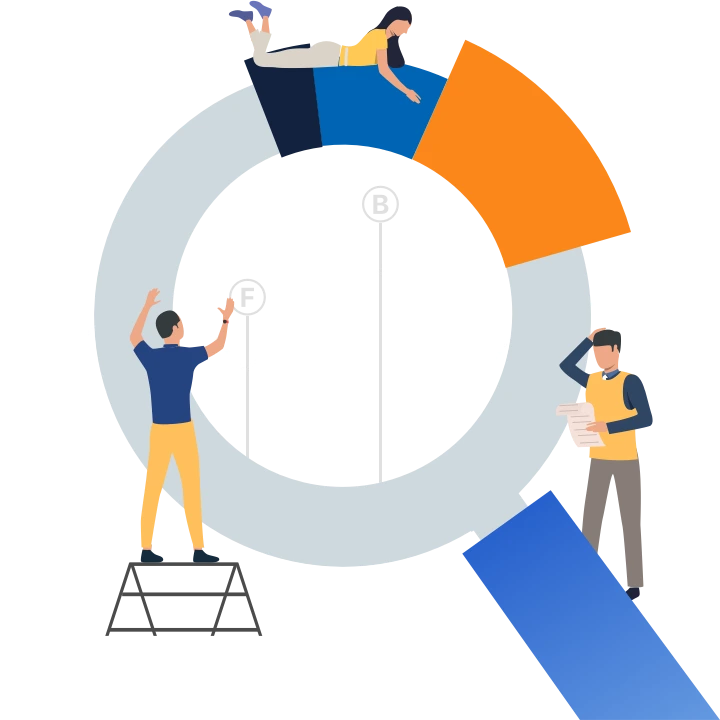 Programming languages
supported by Duecode
Unlock the hidden potential in your workforce
Get powerful insights and deliver a better product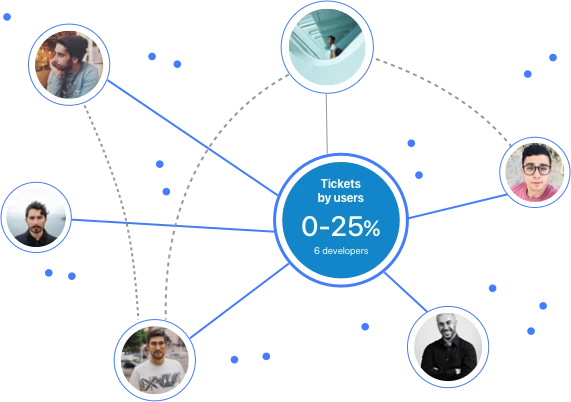 Get powerful insights and deliver a better product
With Duecode, you'll always stay tuned with your team. Get real-time info about the quality of your software, and know top performers in the team.
All-in-one dashboard
Duecode helps to provide valuable insights into each developer's workflow and visualize vulnerabilities of your project's code.
Code Quality Rank
You need no technical qualification to understand what happens under the hood of your project. Based on analyzing 2.5 bln. lines of code and 172k repositories we found it possible to condense a code quality summary to the one letter rank
LEARN MORE
Keep your technical debt under control
Keep your technical debt under control
Bring transparency to your project's technical debt with Duecode. Find pain points and tackle them early on.
In-depth commit analysis
Keep your codebase healthy by identifying fat commits and preventing a mess in your code.
Roles
Duecode can benefit those who are responsible for the end result
Success Stories
"I am Delivery Director, on the first line you have me as CTO, I faced a problem delivering large-scale IT projects on time, on budget, and with good quality of the code. I felt the need to provide visibility to the development process, so I started looking for solutions on the market. After trying out many different products, I found a tool that can take care of my projects' codebase, and it was Duecode. A few statistics that will clarify the position are: with Duecode we decreased time spent on software development by 20% and improved productivity KPIs by 15%. Moreover, now we have a tool that gives a bird's-eye view of the contribution of each team member. It is really hard to overemphasize the importance of this tool for our business, and I cannot imagine development without Duecode."
Bruce Mason
Delivery Director at
QArea
"
Testfort
is a Software Testing Services Company. We have up to 100 QA's and engineers spread across the world and were using a suite of costly tools to maintain code quality and do code review. As a service company, we work with different clients who use various programming languages and have a different workflow. So it was extremely time-consuming to run primary scans and checks, detect bugs, style inconsistencies, and so on. Luckily, we have found Duecode. Integrating Duecode among our specialists has grown efficiency and provided valuable insights on each developer. Moreover, we decreased time spent on code review and code quality measurement by 27%. It helped us worked more productively and amend cost-efficient changes."
Oleg Sivograkov
Frequently Asked Questions
We are using our tool for three years already within our software development team and a partner company of 200 developers. So we built it for ourselves first, which gave us an ability to deliver data that matters and a form that helps make real-world decisions.
Code Quality Rating ™
is a unique rating system built by our data scientists that rates code comparing it to the extensive code library we accumulated (2.5 bln. lines of code scaled). This way, we provide a unique ability to compare developer's output across different languages and different codebase sizes.
Get
Code Quality Rating ™
for your current repository
for free
with the 30 days free trial in 10 minutes of setup.
Also, we provide unique service for our paid customers by advising them personally on how to get the most ROI from using the tool. The advising is made by the highly professional team who created the product and used it across more than 200 unique projects.
If you're responsible for the code or product you deliver, Duecode will provide you with quantitative data for:
Improve your engineering team productivity.
Be in control by knowing what is done.
Be able to measure code quality, control it, and report it.
Find risky areas in the codebase and eliminate them.
The tool may be used by a range of professionals who have the same target on delivering a high-quality product by measuring and controlling the output. Each role gets generic and unique benefits depending on its own needs:
Software vendor client.
CEO.
CTO, VP of Engineering, Head of Operations.
Product Owner, Head of Product.
Software developer, Team Leader, QA Engineer.
We believe that the tool only is not what our customers are looking for. The result is what matters, so for each paid client, we offer personalized support by a highly professional team that built the product (not some guy from support) to advise you on how to get the most ROI for the money paid.
Open source projects with at least 6-month history can get the paid version of our tool for free after our review. If you represent the open-source project, please request the code review by
contacting us
.
We're taking
privacy
seriously and don't store source code after the analysis is performed. After we get the code quality and activity metrics, we immediately wipe off the code. Then it's enough for us to operate only with code quality and activity metrics. If you have questions or concerns, click
contact us
, and we're ready to clarify them.
We offer on-premise installation of the software on your servers. Please check the
pricing
and
contact us
if you have any questions.
We offer a fully functional version of Duecode for 30 days without any payment.
With Duecode
free trial
you're getting access to:
Code Quality Rating ™
This is our prime functionality that rates each committer output by a scale from A+ to H based on our global code quality database (2.5 bln. Lines of code scanned). This chart alone provides a wealth of information about total and saily code quality contribution.
Code review insights
Information for evaluating each commit by code quality and six additional code metrics can be used as an additional source of information for a code review.
Iteration dashboard
Tactic dashboard to know what happens with the codebase in real-time and in the current iteration, comparing to previous ones.